This month Helen and Chris's wedding at The Guard's Chapel and then Cavalry and Guard's Club was featured as a 'real wedding' feature in Your London Wedding Magazine –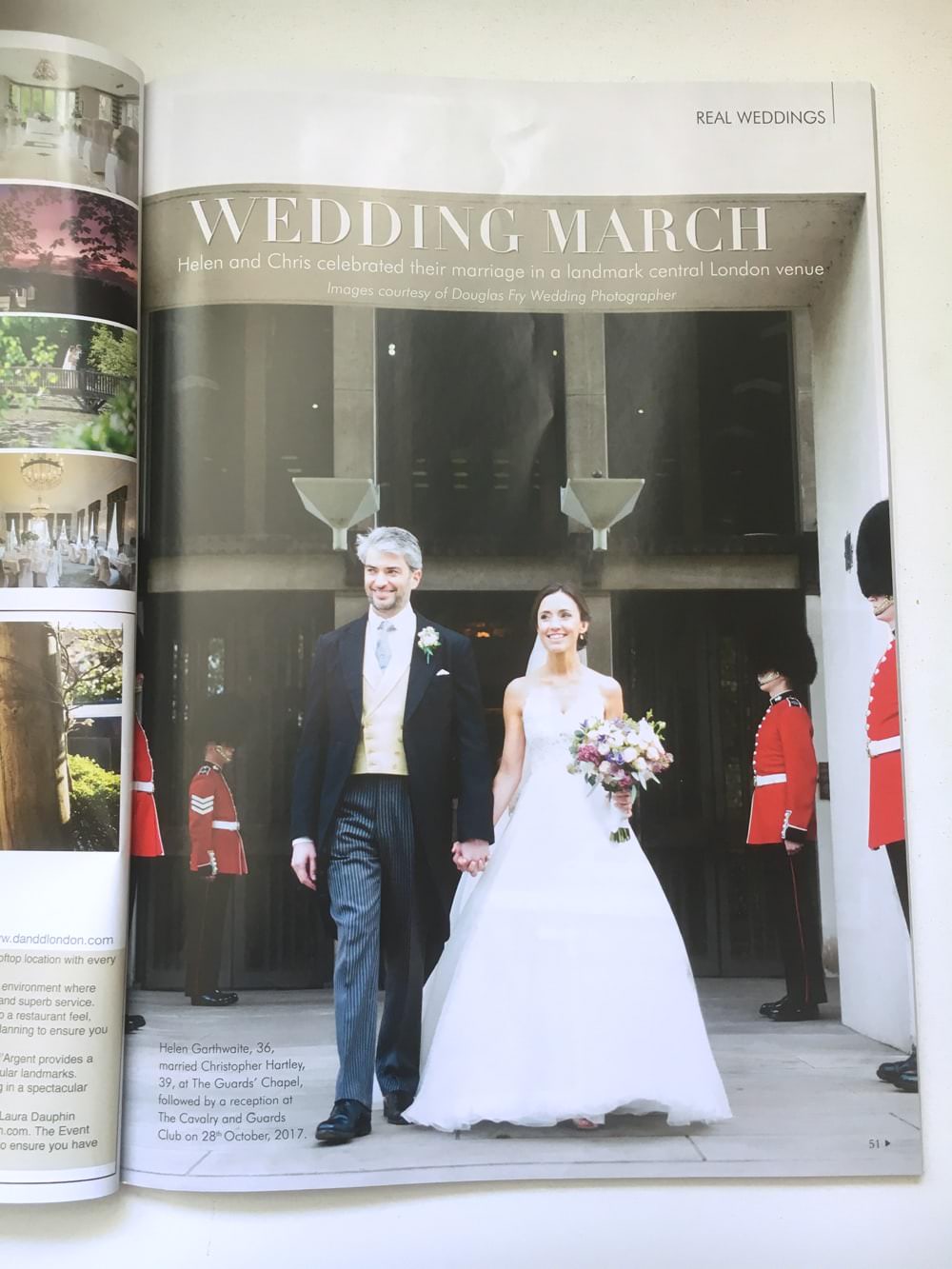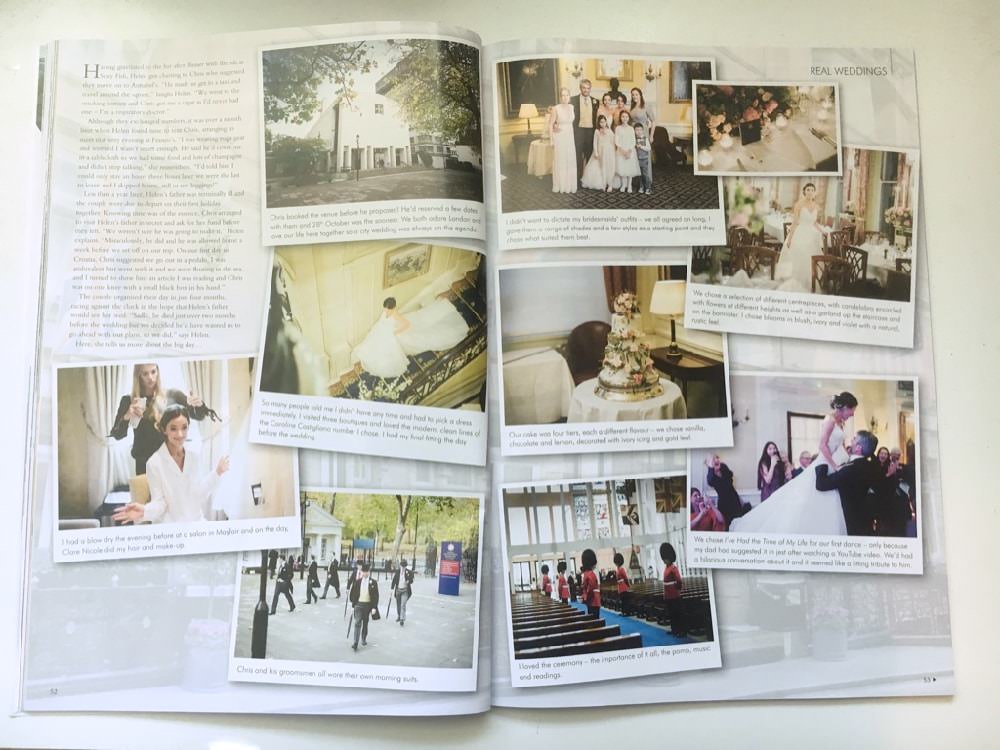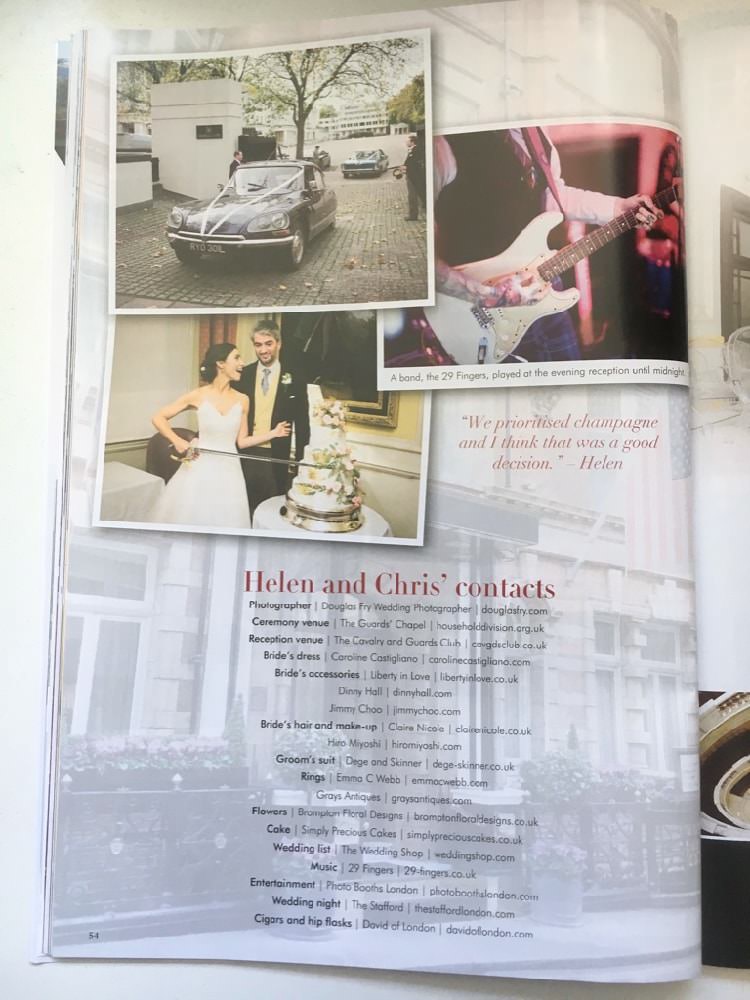 A wonderful January wedding at the Gherkin last weekend, such a spectacular London venue. Here is the full website of images – Gherkin Wedding Photographs and here are a few of our favourites – Best Wedding Photographs Gherkin
The wedding was selected and featured as a 'Real Wedding' story on Confetti's website .  To read the news piece please click here – Gherkin Real Wedding on Confetti's Website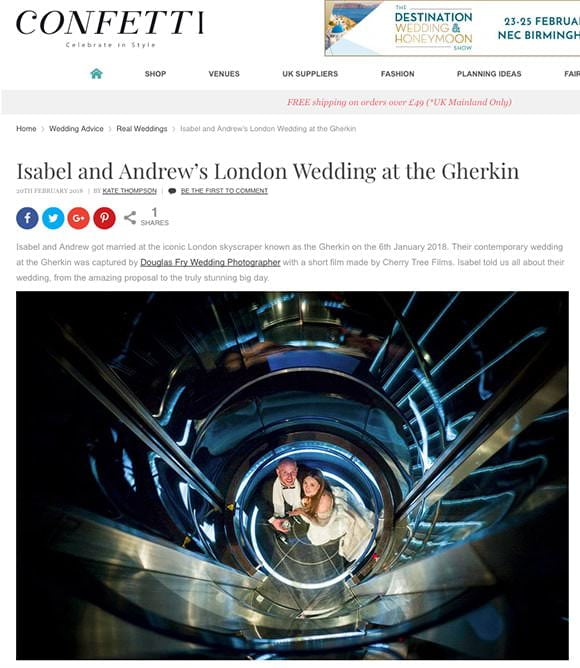 Hi Sam, The photographs are amazing. We are thrilled with them and loved having Douglas there to capture our special day. I know we didn't opt for it but would it still be possible to have them all in a book? They are just so beautiful I feel like we need a physical copy of them. Thanks, Isabel
The first weekend in September brought the wedding of Elizabeth and Pinak at Stationers' Hall – a fantastic day with many interesting entertainments including birds of prey, ice sculpture, henna hand painting and Ferrero Roche pyramid – yum!
The full website of images can be seen here – Elizabeth and Pinak at Stationers' Hall
and favourites below –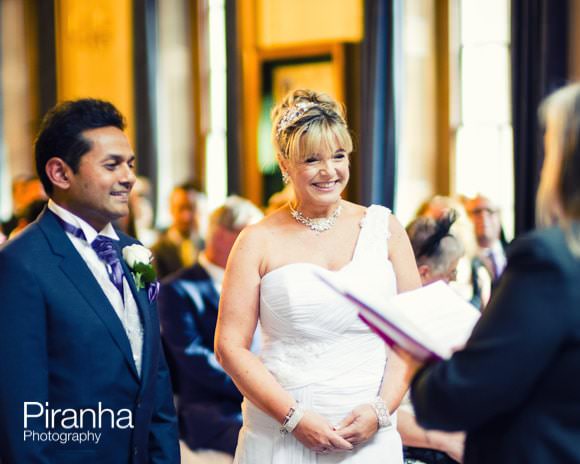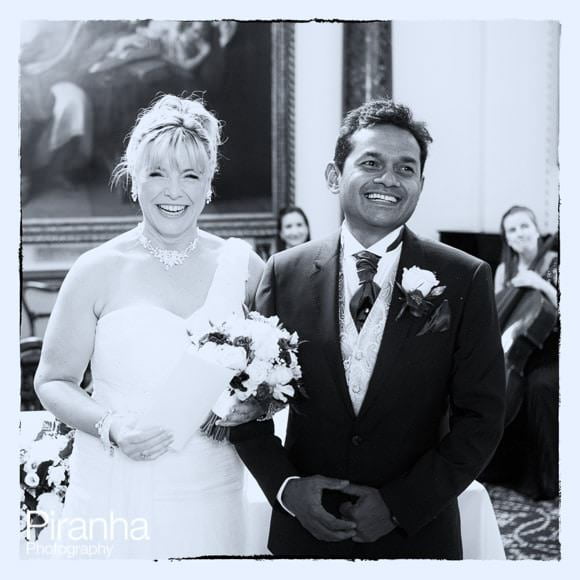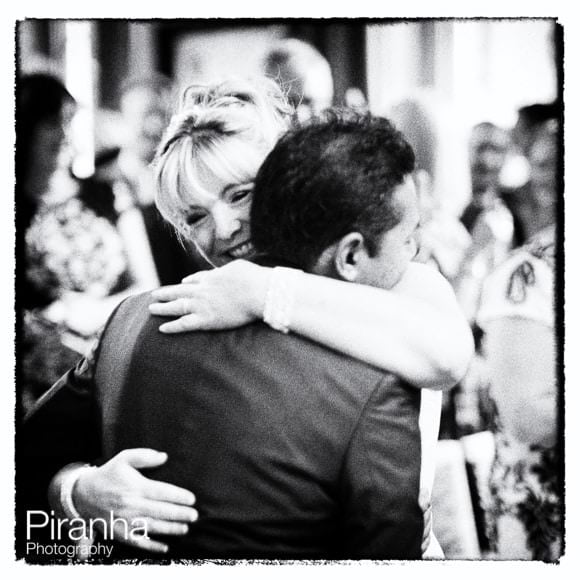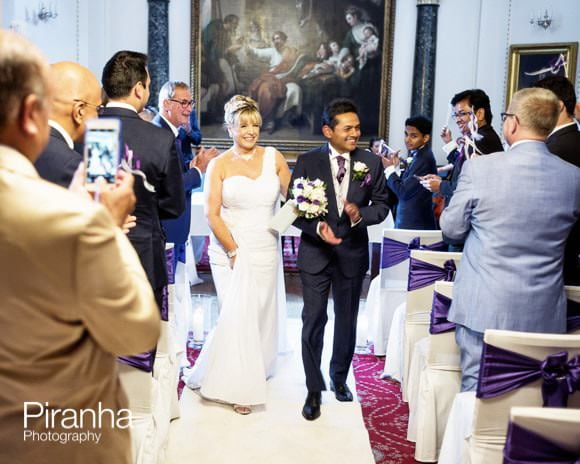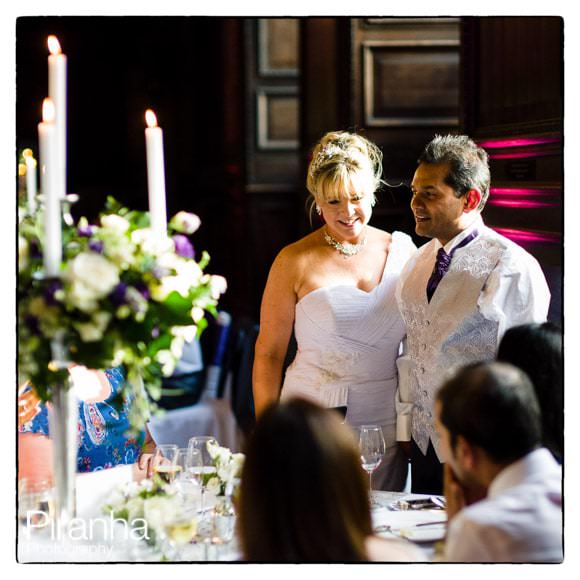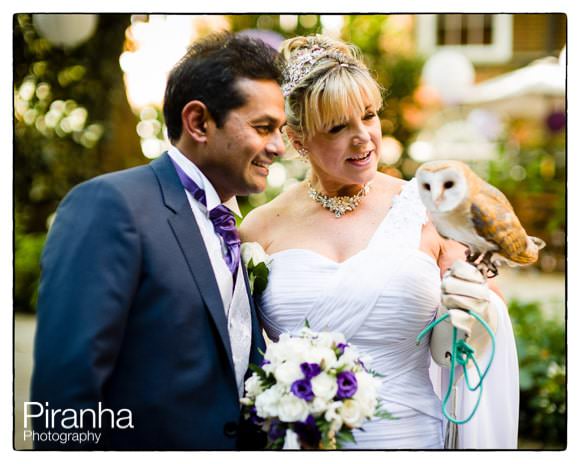 The Elizabeth and Pinak's wedding was featured by Confetti.co.uk in their 'Real Weddings' section –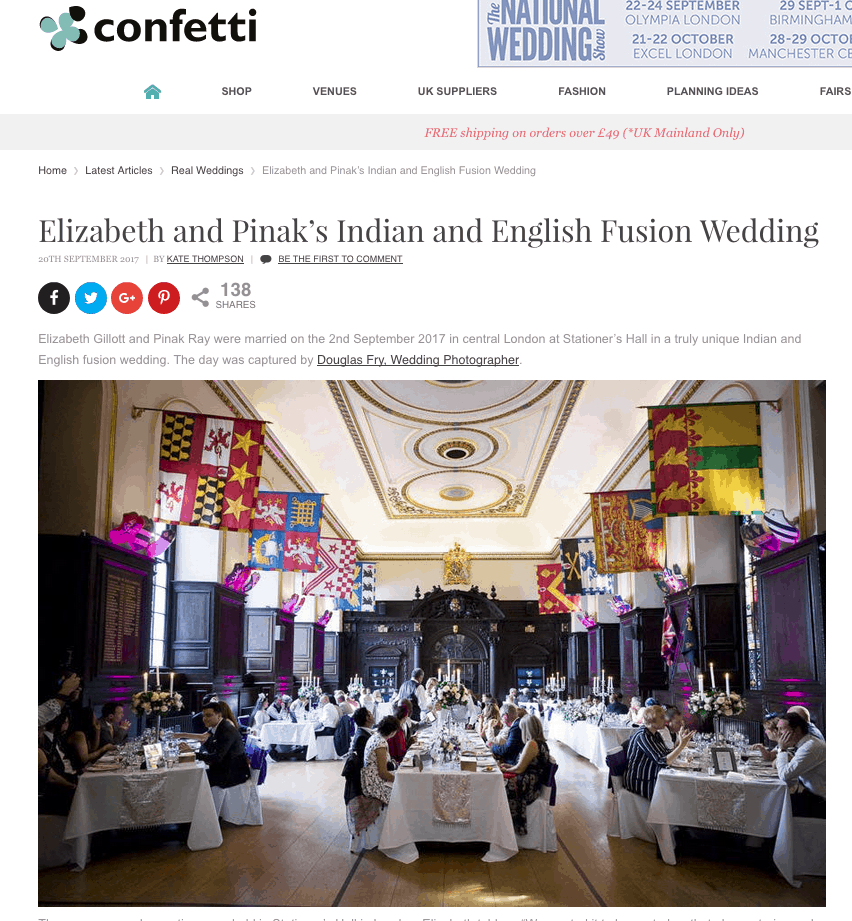 Hi Samantha, Douglas and Adrian were wonderful this weekend. Very unobtrusive and Douglas was particularly entertaining and charmed our guests. Thank you in advance Elizabeth & Pinak
Good Evening Samantha & Doug, Thank you so much for sending through the photographs, they are fab! It was great to work alongside Doug and Adrian and I hope that we have the opportunity to work together in the future. Kind regards Mary - Wedding Organiser
We were recently asked by one of the wedding organisers  we work with to look back at the photographs Douglas took in 2007 of a beautiful wedding at Highclere Castle in Newbury.  It made me think that it would be fun to share a very small selection from the day in a showreel –

Magazine Feature – You and Your Wedding Magazine
Elaine and Scott's wedding appeared as a real wedding feature in You and Your Wedding Magazine –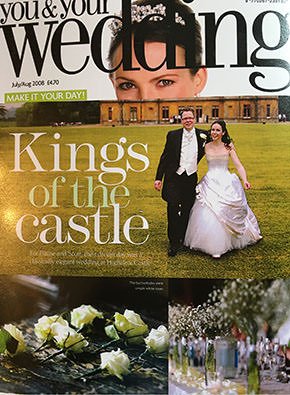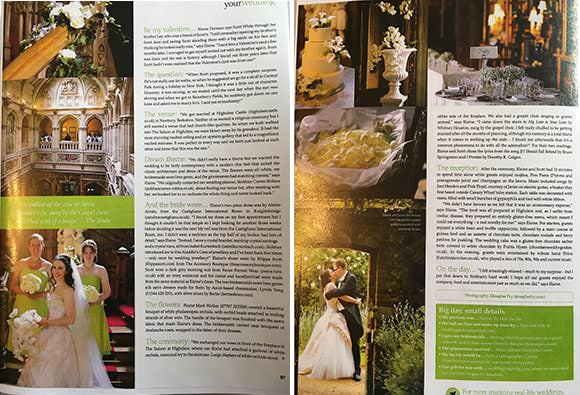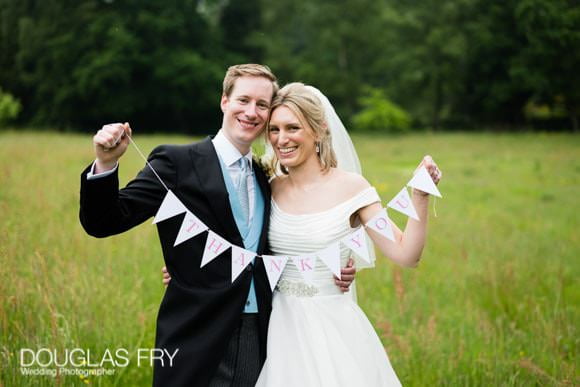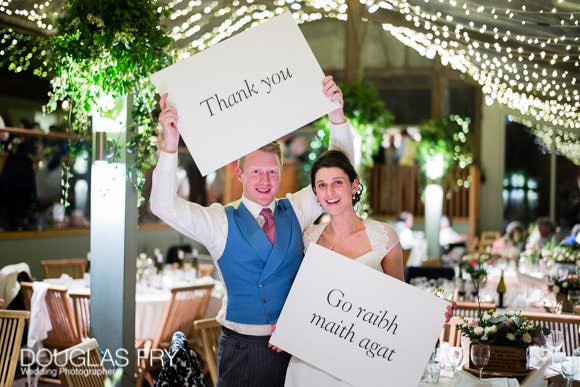 One question we do get asked regularly is how to tackle the knotty issue of Thank You card photos, do they have to be a separate shoot or can they be incorporated within a typical wedding day?
I suggest getting a fun shot taken away from the madding crowd on the day itself so the image will be a surprise, it only takes a few minutes if a suitable placard can be prepared in advance and it seems more considered than 'just' a favourite wedding picture selected from the day. It is a simple effective solution! please let me know what you think….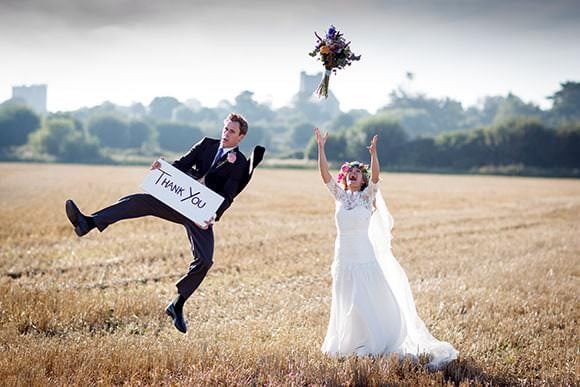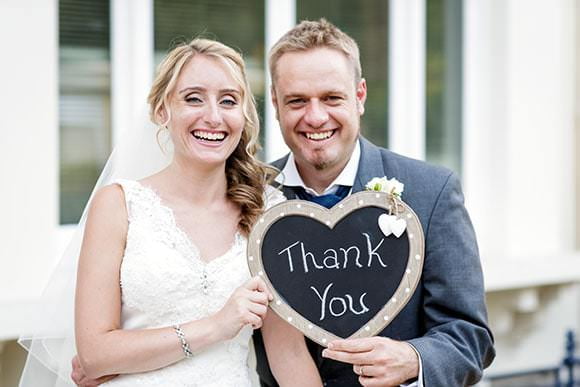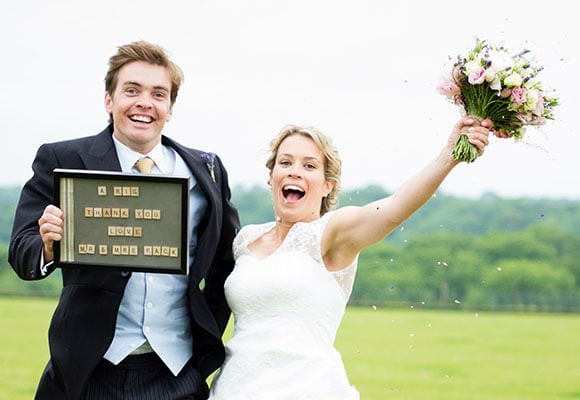 ... a fun shot taken away from the madding crowd on the day itself - Douglas, Photographer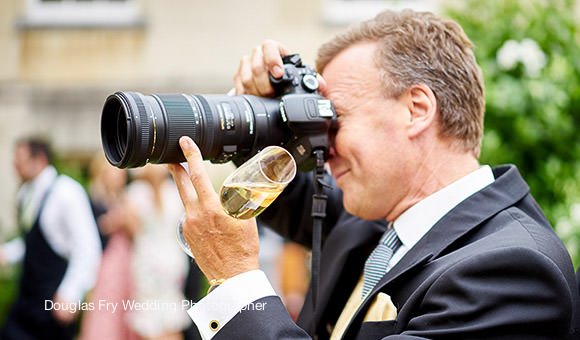 If a guest at your wedding is a photographer, or is a very keen amateur and offers to bring their camera kit along to 'help out and give the couple some free images', can I suggest you politely decline? Odd though it may sound.
This isn't because I feel threatened or feel that someone might steal my thunder it's actually simpler than that. You have after all commissioned a professional wedding photographer to cover the day in a style that you prefer and comfortable that he or she will be in the right place at the right time, and at some point, politely corral the family for the formal photographs.
The snag with the enthusiastic guest is more often than not he will try and get the same shots, be that the bride approaching the church with her father, standing before the alter exchanging vows etc. This will necessitate leaning out from the pews and grabbing an oblique shot, at the same time blocking the professional photographer. This continues during the recessional when half a dozen guests lean out towards the aisle to capture the happy moment on their iPhone or worse still a large iPad. Suffice to say, all I can see is a bright sea of screens before a beaming couple walking arm in arm towards me weaving around all the outstretched arms and what could have been one of the singular key shots of the wedding is much, much weaker.
There are often guests with oversized camera kit and so many shots during the reception include photos of the couple with someone within a few feet with their face obscured by a DSLR camera and lens.
Lenses do not improve the dinner tables decorations and central floral displays and fellow guests tire quickly of the guests that keep getting up and wandering off to get more images.
It's the professional's job to capture all these moments, he's not a formal guest so not socially obliged to converse at dinner or keep leaving a bored spouse as a camera widow. He's there to take photographs and is ready all day, all the time.
Much better to request all these gadgets are left at home or phones remain in their jackets, to enjoy the day undistracted and be able to spend more time in conversation. You will get MUCH better photographs that capture the true character of the day with the undistracted focus on the couple, guests and family, as of course it should be.