'Timing' was the order of the day for Rebecca and Stephen on Sunday for their wedding at Pembroke Lodge in Richmond. Rebecca arrived to be greeted by her bridesmaids, ready for her interview, bathed in sunshine, literally moments later, the heavens opened and a downpour! This mattered little to any of the guests as all attention was on the couple and their exchange of vows and readings.
Erring on the side of caution even though there was a break in the clouds we used one of the reception rooms for the family photographs, and got through them in good time. There then followed, less formally than the service itself a small service, Robin leading a Jewish ceremony and similarly Stephen's mother, a Catholic reading. Lastly, and by no means least Rebecca's male side of her family sang, with piano accompaniment, a humerous tribute to the bride's life. The reception continued, with the wedding breakfast and the speeches.
If anyone had any plans to take it easy after coffee then they had to think again as the excellent 'License to Ceilidh' had everyone reeling to 'Stripping the Willow' and 'Dashing White Sergeant'.
To see all the wedding photographs – Wedding Photography at Pembroke Lodge, Richmond
and our favourites – 'Innovations' Wedding Photographs
finally, the wedding album layouts – Jorgensen Wedding Album Layouts – Pembroke Lodge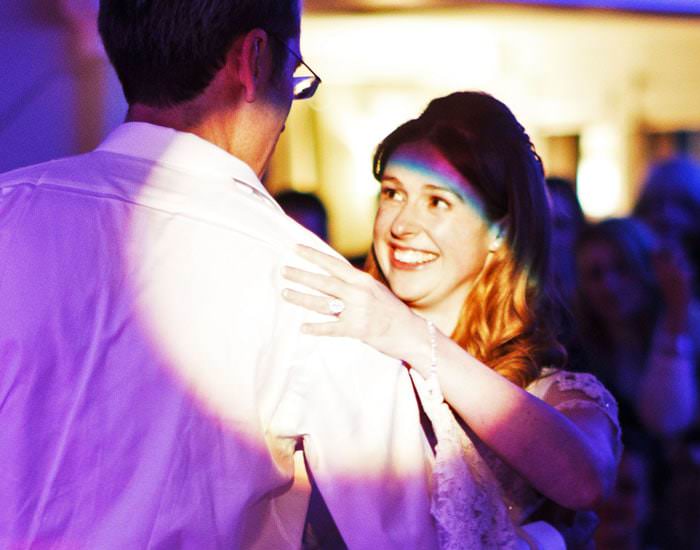 Douglas is a London based wedding photographer with over twenty years experience, working throughout the UK and Europe. He enjoys weddings and believes that this passion for contemporary wedding photography is crucial to creating stunning and memorable images, importantly using no flash. He uses top of the range Leica cameras and lenses.

Latest posts by Douglas Fry